"Belief can be manipulated. Only knowledge is powerful."
―Anika Decuir
Anika Decuir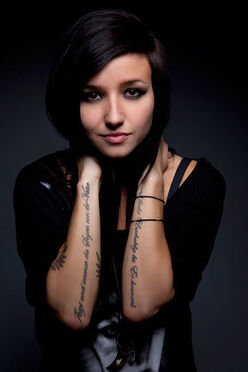 Avatar: Valerie 'Lights' Poxlenitner
Apprentices
{{{Apprentices}}}
Lightsabers
{{{Lightsaber}}}
Affiliation
The Coven
The Decuir Regime
Witches of Dathomir
Current Clan
Frenzied River Clan
Living Situation
Frenzied River Village
Citizenship
Dathomir - Necropolis
Pelagon - Umbara
Saleucami - Tython
{{{CharLabel7}}}
{{{CharData7}}}
{{{CharLabel8}}}
{{{CharData8}}}
{{{PhysLabel1}}}
{{{PhysData1}}}
{{{PhysLabel2}}}
{{{PhysData2}}}
{{{PhysLabel3}}}
{{{PhysData3}}}
{{{PhysLabel4}}}
{{{PhysData4}}}
{{{PhysLabel5}}}
{{{PhysData5}}}
{{{PhysLabel6}}}
{{{PhysData6}}}
{{{PhysLabel7}}}
{{{PhysData7}}}
{{{PhysLabel8}}}
{{{PhysData8}}}
{{{FamLabel6}}}
{{{FamData6}}}
{{{FamLabel7}}}
{{{FamData7}}}
{{{FamLabel8}}}
{{{FamData8}}}
Training Information
[[Image:|248px|Training Information|]]
Avatar: {{{Actor}}}
Affiliation
Witches of Dathomir
Masters
Thedosius Darklighter Wendigo
Pandora Marzullo
Apprentices
{{{Apprentices}}}
Lightsabers
{{{Lightsaber}}}
{{{CharLabel3}}}
{{{CharData3}}}
{{{CharLabel4}}}
{{{CharData4}}}
{{{CharLabel5}}}
{{{CharData5}}}
{{{CharLabel6}}}
{{{CharData6}}}
{{{CharLabel7}}}
{{{CharData7}}}
{{{CharLabel8}}}
{{{CharData8}}}
{{{PhysLabel1}}}
{{{PhysData1}}}
{{{PhysLabel2}}}
{{{PhysData2}}}
{{{PhysLabel3}}}
{{{PhysData3}}}
{{{PhysLabel4}}}
{{{PhysData4}}}
{{{PhysLabel5}}}
{{{PhysData5}}}
{{{PhysLabel6}}}
{{{PhysData6}}}
{{{PhysLabel7}}}
{{{PhysData7}}}
{{{PhysLabel8}}}
{{{PhysData8}}}
{{{FamLabel6}}}
{{{FamData6}}}
{{{FamLabel7}}}
{{{FamData7}}}
{{{FamLabel8}}}
{{{FamData8}}}
Bloodlines
[[Image:|248px|Bloodlines|]]
Avatar: {{{Actor}}}
Apprentices
{{{Apprentices}}}
Lightsabers
{{{Lightsaber}}}
{{{CharLabel2}}}
{{{CharData2}}}
{{{CharLabel3}}}
{{{CharData3}}}
{{{CharLabel4}}}
{{{CharData4}}}
{{{CharLabel5}}}
{{{CharData5}}}
{{{CharLabel6}}}
{{{CharData6}}}
{{{CharLabel7}}}
{{{CharData7}}}
{{{CharLabel8}}}
{{{CharData8}}}
{{{PhysLabel1}}}
{{{PhysData1}}}
{{{PhysLabel2}}}
{{{PhysData2}}}
{{{PhysLabel3}}}
{{{PhysData3}}}
{{{PhysLabel4}}}
{{{PhysData4}}}
{{{PhysLabel5}}}
{{{PhysData5}}}
{{{PhysLabel6}}}
{{{PhysData6}}}
{{{PhysLabel7}}}
{{{PhysData7}}}
{{{PhysLabel8}}}
{{{PhysData8}}}
Siblings
Jaden Decuir; twin
Azrael Decuir
Grandparents
Shiva Decuir
Vishnu Merchion
Great grandparents
Amaterasu Decuir
Brahma Remus
Aunts and uncles
Santeria Decuir
Abaddon Decuir
Nevaeh Decuir
Nirvana Decuir
Ba'al Decuir
Seth Decuir
Cousins
Sephoria Decuir
Cassiel Decuir
Asatru Decuir
Invidia Decuir
Krishna Decuir
Drarma Decuir
Angelus Decuir
Isaac Decuir
Nymphadora Decuir
Ariel Decuir
Celeste Decuir
Alexiares Decuir
Raven Decuir
Trinity Decuir
{{{FamLabel7}}}
{{{FamData7}}}
{{{FamLabel8}}}
{{{FamData8}}}
Description
[[Image:|248px|Description|]]
Avatar: {{{Actor}}}
Age
Born; Ten
Body; Sixteen
Apprentices
{{{Apprentices}}}
Lightsabers
{{{Lightsaber}}}
{{{CharLabel2}}}
{{{CharData2}}}
{{{CharLabel3}}}
{{{CharData3}}}
{{{CharLabel4}}}
{{{CharData4}}}
{{{CharLabel5}}}
{{{CharData5}}}
{{{CharLabel6}}}
{{{CharData6}}}
{{{CharLabel7}}}
{{{CharData7}}}
{{{CharLabel8}}}
{{{CharData8}}}
Species
Celestial
Dathomiri
Morganian
Lorrdian
Measurements
36C-28-38 [75-65-85]
{{{PhysLabel2}}}
{{{PhysData2}}}
{{{PhysLabel3}}}
{{{PhysData3}}}
{{{PhysLabel4}}}
{{{PhysData4}}}
{{{PhysLabel5}}}
{{{PhysData5}}}
{{{PhysLabel6}}}
{{{PhysData6}}}
{{{PhysLabel7}}}
{{{PhysData7}}}
{{{PhysLabel8}}}
{{{PhysData8}}}
{{{FamLabel6}}}
{{{FamData6}}}
{{{FamLabel7}}}
{{{FamData7}}}
{{{FamLabel8}}}
{{{FamData8}}}

Anika Lirin Decuir is a force sensitive female born to parents Christian Decuir and Aria Santori. She is considered to be an extremely intelligent young woman; her IQ is quite high, and she possess an eidetic memory. Anika is currently member of the Witches of Dathomir, where she holds the rank of Nightsister Knight.
Appearance
Edit
Personality and Traits
Edit
Strengths
Edit
Characteristics
Edit
>> Sexuality: Hetrosexual
>> Likes: Reading; Writing; Novels; Novellas; Poetry; Prose
>> Dislikes: Loud Music; Excessive Noise;
>> Fears:
>> Disorders: 
>> Hobbies:
>> Other:
Personality Overview
Edit
Biography
Edit
Childhood
Edit
Teen Years
Edit
Adulthood
Edit
Personal Connections
Edit
| | | |
| --- | --- | --- |
| Relationships | Acquaintances | Disliked and Reviled |
| | | |
Assets and Possessions
Edit
Businesses
Edit
Abilities and Training Data
Edit
Abilities:
Master(s):
Apprentices:
Character Sources
Edit
[Character Chronological Order]
play with fire
TAKING CHANCES
Owning the night
Sharing of knowledge
Ad blocker interference detected!
Wikia is a free-to-use site that makes money from advertising. We have a modified experience for viewers using ad blockers

Wikia is not accessible if you've made further modifications. Remove the custom ad blocker rule(s) and the page will load as expected.