Affiliation
The Jedi Council
Force Specialty
Empathy/Illusions
Species
Human/Anzati/S'kytri
Hair Color
Brownish-blonde
Master
Kyp Durron/Sophia Antoinette
Early Life
Edit
Even as an infant, Chase was sensitive to the emotions of others. As he grew, this sensitivity intensified. This made him quiet and withdrawn, a loner. He began avoiding places with lots of people, the mental noise causing him headaches. Worse, as he reache his teen years, he began having urges, cravings that were sparked whenever he sensed the pain of others. These cravings, side-effects of his Anzati heritage, grew steadily more intense. Afraid of what others might think, Chase kept this problem to himself.
The Jedi Way
Edit
Jedi Knight Kyp Zeth Durron ran across Chase by accident, and caught wind of what had been happening. Promising to teach Chase to control his urges, Kyp took the young man under his wing and began training him to be a Jedi. Half-way through his training, events took Kyp from the Jedi Temple, and Chase's training was picked up and completed by the newly-Knighted Sophia Antoinette.
Knighthood
Edit
Although very new to Knighthood, Chase goes on as many missions as possible. He still tends to lurk in the background, giving silent support to the Jedi Council. He has learned to put a shield around his emotions, but the cravings are still there. The problem is with his DNA(thanks to his father, Mikhael Kosovich), and as such, will never completely disappear. He is currently training his first padawan, Teerra.
Appearance
Edit
Like his mother(Jessari Tanelorn) and sister(Kaliska Tanelorn), Chase possesses a pair of wings. But due to his mixed heritage, they are too small and weak to sustain flight. It is a rare occasion that he wears the Jedi robes, as they seem to draw too much attention in public places. He prefers dark, comfortable clothing, usually sporting a dark-colored t-shirt and blue jeans.
Personality
Edit
Chase is very laid-back, and tends not to begin conversations, prefering to observe from the sidelines. Since his promotion to Knight, he has become a bit more out-going, possessing a quiet confidence. He can be moody, almost dark at times, but it is very hard to stir his anger.
Abilities
Edit
Well-rounded in the Jedi arts, his strong points are empathy and illusion. Both are augmented by his Anzati heritage. Chase also paints as a hobby, and does quite well at it when he isn't rushed.
A lightsaber built with a crystal he found in an underwater crystal cave on Drexel II. The hilt is made out of black volcanic rock, rough and unpolished on the outside to keep it from reflecting light and drawing attention. The blade is orange.
Chase owns an RZ-1 A-wing interceptor modified to seat two people rather snugly in the cockpit. He hasn't named it yet.
Signatures
Edit
Signature #1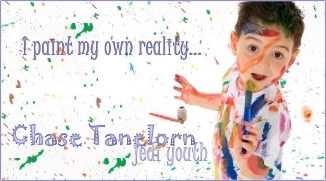 Signature #2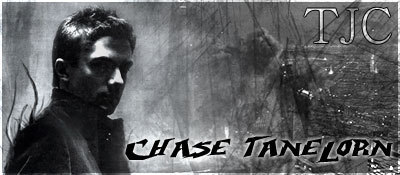 Signature #3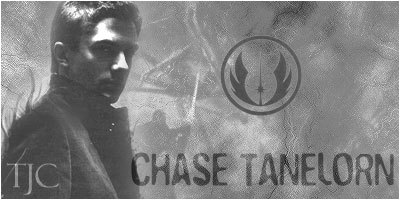 Ad blocker interference detected!
Wikia is a free-to-use site that makes money from advertising. We have a modified experience for viewers using ad blockers

Wikia is not accessible if you've made further modifications. Remove the custom ad blocker rule(s) and the page will load as expected.