Data Profile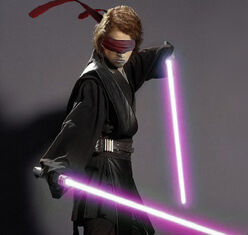 Avatar: Hayden Christensen with Kenshi blindfold
Also known as
The All-seeing Shadow
Birthplanet
{{{Birthplace}}}
Affiliation
The Jedi Council
Apprentices
Daniel Chro
Bob Turney
Cade Vallen
Ailema Sedonis
Golan Tirrg'ola'nuruodo

Akiza Arcana
Lightsabers
2x Purple
1x Green
1x Yellow
{{{CharLabel1}}}
{{{CharData1}}}
{{{CharLabel2}}}
{{{CharData2}}}
{{{CharLabel3}}}
{{{CharData3}}}
{{{CharLabel4}}}
{{{CharData4}}}
{{{CharLabel5}}}
{{{CharData5}}}
{{{CharLabel6}}}
{{{CharData6}}}
{{{CharLabel7}}}
{{{CharData7}}}
{{{CharLabel8}}}
{{{CharData8}}}
{{{PhysLabel1}}}
{{{PhysData1}}}
{{{PhysLabel2}}}
{{{PhysData2}}}
{{{PhysLabel3}}}
{{{PhysData3}}}
{{{PhysLabel4}}}
{{{PhysData4}}}
{{{PhysLabel5}}}
{{{PhysData5}}}
{{{PhysLabel6}}}
{{{PhysData6}}}
{{{PhysLabel7}}}
{{{PhysData7}}}
{{{PhysLabel8}}}
{{{PhysData8}}}
Family members
{{{Family}}}
Significant other
{{{SigOther}}}
Grandparents
{{{Grandparents}}}
Great grandparents
{{{GreatGrandParents}}}
Aunts and uncles
{{{AuntsUncles}}}
Other family
{{{OtherFamily}}}
{{{FamLabel1}}}
{{{FamData1}}}
{{{FamLabel2}}}
{{{FamData2}}}
{{{FamLabel3}}}
{{{FamData3}}}
{{{FamLabel4}}}
{{{FamData4}}}
{{{FamLabel5}}}
{{{FamData5}}}
{{{FamLabel6}}}
{{{FamData6}}}
{{{FamLabel7}}}
{{{FamData7}}}
{{{FamLabel8}}}
{{{FamData8}}}

Insert random short summary tidbit here.
Childhood and Early Life
Edit
Cid was brought to the temple on Corasucant when he was a child and has lived there throughout his life, learning the Jedi ways as a padawan learner. He befriended with a Jedi Knight, Aria Kevoria and became partners as instructor in his early training. He would later be transferred to Caamas and became Jedi Master Adrian Thresh's padawan. At age 18 the council thought he was ready and Cid took the Jedi Trials. In taking account to all what his masters and instructors had taught him, he passed the trials with only a few point deductions.
After recieving his knighthood, Cid studied and trained for months by using holocrons and the archives to obtain a better understanding of swordplay that was more his style. He would finally find what he was seeking. Saber Shield was the name of the technique and the only one that have knowledge of it was dead long ago. Luckly for him that there was a holocron that taught the technique.
The Council had given him a Dynamic-Class Freighter that was sitting in the Naboo Hanger for years, gathering dust. They had the temple mechanics put it to working order then Cid made his own modifications later. The Jedi Council's seal was painted over the original paint job because of limited time and credits.
Characteristics
Edit
Personality
Edit
He is a calm, quiet, and peaceful individual that lives strictly to the Jedi Code. Cid doesn't talk much, using his ears more than this mouth, calculating all possiblities into a peaceful resolution. Only as a last resort, when all peaceful possibilties are lost, he will defend himself and the ideals that he believes in as truth.
Powers and Abilities
Edit
Languages
Edit
Basic
Miralukese
Huttese
Understands
Edit
Shyriiwook and some others
The Force
Edit
Force Sight
Force Pull
Force Push
Force Wave
Force Grip
Force Shield
Force Enlightenment
Force Speed
Force Jump
Mind Trick
Force Persuasion
Battle Meditation
Force Dopplegänger
Theran Force-listening
Force Flash
Swordsmanship
Edit
Single
Double-bladed
Two-handed
Martial Artist
Edit
Weapon Disarm
Judo
Tae-Kwan-Do
Weaknesses
Edit
Not an expert in the art of swordsmanship.
He is a close-minded individual to the ideals that he has grown up with in the Jedi Order.
Assets and Possessions
Edit
1x Yellow Lightsaber, 1x Green Lightsaber, 2x Twin Purple Lightsabers w/ mods: palm-print recognition lockout (electric shock to unrecognized user), water proof casing, practice blade setting, lock on switch.
Dynamic-Class Freighter "The Peacekeeper"
Ad blocker interference detected!
Wikia is a free-to-use site that makes money from advertising. We have a modified experience for viewers using ad blockers

Wikia is not accessible if you've made further modifications. Remove the custom ad blocker rule(s) and the page will load as expected.