Zaephod Malfuron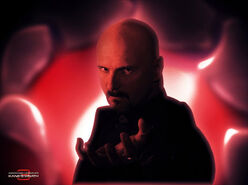 Avatar: Kane
Also known as
Darth Monark
{{{CharLabel1}}}
{{{CharData1}}}
{{{CharLabel2}}}
{{{CharData2}}}
{{{CharLabel3}}}
{{{CharData3}}}
{{{CharLabel4}}}
{{{CharData4}}}
{{{CharLabel5}}}
{{{CharData5}}}
{{{CharLabel6}}}
{{{CharData6}}}
{{{CharLabel7}}}
{{{CharData7}}}
{{{CharLabel8}}}
{{{CharData8}}}
Species
Zabrak/Human Hybrid
Cybernetics
Right arm and leg
Scars
Saber mark on chest
Cybernetics
Right arm and leg
{{{PhysLabel1}}}
{{{PhysData1}}}
{{{PhysLabel2}}}
{{{PhysData2}}}
{{{PhysLabel3}}}
{{{PhysData3}}}
{{{PhysLabel4}}}
{{{PhysData4}}}
{{{PhysLabel5}}}
{{{PhysData5}}}
{{{PhysLabel6}}}
{{{PhysData6}}}
{{{PhysLabel7}}}
{{{PhysData7}}}
{{{PhysLabel8}}}
{{{PhysData8}}}
{{{FamLabel1}}}
{{{FamData1}}}
{{{FamLabel2}}}
{{{FamData2}}}
{{{FamLabel3}}}
{{{FamData3}}}
{{{FamLabel4}}}
{{{FamData4}}}
{{{FamLabel5}}}
{{{FamData5}}}
{{{FamLabel6}}}
{{{FamData6}}}
{{{FamLabel7}}}
{{{FamData7}}}
{{{FamLabel8}}}
{{{FamData8}}}
Personality & Appearance
Edit
Darth Monark has yet to find and stick to a purpose. He's a mastermind, but very oblivious of things at times, due to him being ignorant and cocky. [Appearance in Picture]At this point in his life, he's suffered enough pain that he's become invulnerable to it. As well as no longer feeling emotions, all but hate. The hate he uses to fuel himself in combat, as well as further his training in the arts of the Sith.
Zaephod Malfuron so far has found nothing but pain, love, and misery in his four years as a Sith Apprentice. However, in this time, he has also found power, loyalty, and the cockiness that got him to his current skill level today. Zaephod was once a new Jedi Knight, whom did not find what his allies were doing with the world useful. In his eyes, the Sith reigned supreme over all, and good would never prevail over evil. This is when he made the decision to leave the Jedi in search of a new power source. The Sith would do well in corrupting his heart.
It has, and when he arrived at the Black Gates, The torn land of Korriban, A Superstar Destroyer, and even Zoist, he knew that a new master awaited him behind each one of these doors to life. He's trained with some of the best and infamous Sith, only to be stuck as an apprentice due his master's disappearance, and death. Unfortunately, at his skill level, he can easily go up to par with medium-boiled Knight in a saber spar. All of these master's, and all of the training has only prepared him for future Knighthood. When he becomes a knight, he may very likely be one of the best among the Sith.
Sith Apprentice
Edit
Zaephod Malfuron is just but a Sith Apprentice, however, he's one of the Elite, having been training for four years.
Brotherhood of The Sith
Edit
In the Brotherhood of The Sith, Monark met one of his first true master's that would push him to the brink of insanity with intense training. Through this faction, he met Sith Master Kale Arkin, who was a great ally in the long run. During his time in this faction, he and Kale assaulted Kashyyyk with the aid of other Sith members, and a large fleet. It ended with a victory, however, it was only for entertainment, and the wookies who died were slain for no reason at all, except for the enjoyment of the diabolic pair.
When Kale Arkin disappeared suddenly, the Brotherhood fell apart and disbanded, leaving Monark without a master.
Regnum in Potestas
Edit
In the Regnum in Potestas, Monark too had been just an apprentice to an unknown master, who's name is currently no longer available, or known. His stay there was no long, for he'd found a wife and left the faction.
The Sith Council
Edit
Pending...
Force & Combat Abilities
Edit
Having force training for four years has enabled him powerful control over it. Having four arms, he manipulates the force into activated four Sabers at once, controlling them at a distance, rather than engaging melee combat.
Ad blocker interference detected!
Wikia is a free-to-use site that makes money from advertising. We have a modified experience for viewers using ad blockers

Wikia is not accessible if you've made further modifications. Remove the custom ad blocker rule(s) and the page will load as expected.