Eliza Steele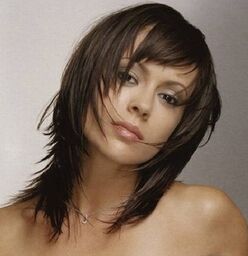 Avatar: Alyssa Milano
Also known as
Lizzy (her father's petname)
Birthplanet
Tyrena, Corellia
Homeplanet
Coronet City, Corellia
Workport - Ord Mantell
Affiliation
The Galactic Underworld
Black Sun
Steele Shipping Inc. (family owned)
Weapons
DL-44 Heavy blaster pistol
Vibroknife
Hold out and/or secondary blaster
Small Demolitions
Vehicles
Corellian Dawn
YT-1930 Light freighter
Languages
Galactic Basic
Mando'a
Huttese
Bocce
Olys Corellisi
Durese
Rodese
Shyriiwook (understands)
Binary "Droid Speak" (understands)
Awards/Honors
2nd-class Corellian Bloodstripes
{{{CharLabel3}}}
{{{CharData3}}}
{{{CharLabel4}}}
{{{CharData4}}}
{{{CharLabel5}}}
{{{CharData5}}}
{{{CharLabel6}}}
{{{CharData6}}}
{{{CharLabel7}}}
{{{CharData7}}}
Species
Human (Full-blooded Corellian)
Tattoos
Back, belly, wrist & ankle
{{{PhysLabel1}}}
{{{PhysData1}}}
{{{PhysLabel2}}}
{{{PhysData2}}}
{{{PhysLabel3}}}
{{{PhysData3}}}
{{{PhysLabel4}}}
{{{PhysData4}}}
{{{PhysLabel5}}}
{{{PhysData5}}}
{{{PhysLabel6}}}
{{{PhysData6}}}
{{{PhysLabel7}}}
{{{PhysData7}}}
Mother
Annah Steele-Deceased
{{{FamLabel1}}}
{{{FamData1}}}
{{{FamLabel2}}}
{{{FamData2}}}
{{{FamLabel3}}}
{{{FamData3}}}
{{{FamLabel4}}}
{{{FamData4}}}
{{{FamLabel5}}}
{{{FamData5}}}
{{{FamLabel6}}}
{{{FamData6}}}
{{{FamLabel7}}}
{{{FamData7}}}
Biography
Edit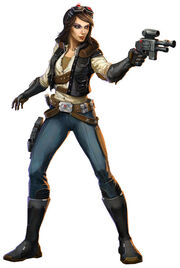 Eliza is the daughter of Corellian smuggler Remy Steele, the original owner of the
Corellian Dawn
,
a heavily modified YT-1930 Light freighter. When her father was apprehended by CorSec and sentenced to five years hard labor on Kessel for his illegal underworld activities, the younger Steele took control of his smuggling operation and turned it into Steele Shipping Inc. Under her steady guidance, the business maintained its profitability turning almost completely legitimate, almost. 
The fiery Corellisi is a free lance smuggler, though she has ties with Black Sun and has had collaborate business deals with certain Mando'ade mercenaries and bounty hunters for her transportion services. Eliza from time to time smuggles supplies for the Rebellion as she hates the Empire with a passion. She also hunts, buys, and sells antiquities and artifacts on the side to keep her smuggling business diversified, and hopefully the authorities looking elsewhere when she does run illiegal products. 
Steele is an excellent freighter pilot and marksmen. Her hand to hand isn't too bad and knows how to handle herself in a fight as well as blow up things with small demos. A hot Corellian temper and stubborness is her downfall though and sometimes gets the best of her. One must earn her trust first, then she is loyal to the core.  Cross her but only once and your're a dead man. She likes good Corellian brandy, and occassionaly will smoke a Sweet Theed cigar in celebration, thanks to her old man's influence. Men have come and gone in her life, but none have led to anything permanent though one did leave her broken hearted causing the Corellisi to be bitter about men and relationships.
Personal Connections
Edit
Remy Steele - Her beloved father
Arrbi Betna - Past flame
Eric Ryder - The spy who loved her.
Xan Qenadius - The man who chose a dark path over her.
Roleplaying Threads:
Edit
This is truly an Original Title (Underworld ladies go shopping.)
I need a little controversy cause it feels good…
Bloody Mary - 11th Annual Masquerade Ball
Sweet Theeds and Corellian Whiskey
Casino night on the Shadowport
The Sand Panther and the Mythosaur
A Wedding of a Lifetime: Sasha and Lazaro
Ad blocker interference detected!
Wikia is a free-to-use site that makes money from advertising. We have a modified experience for viewers using ad blockers

Wikia is not accessible if you've made further modifications. Remove the custom ad blocker rule(s) and the page will load as expected.