Feena Grey
[[Image:[[Image: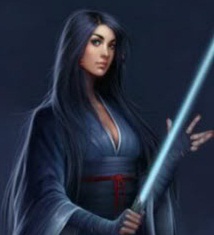 |ImageSize = |248px|center]]|248px|center]]
Species
Half human, half Miraluka
"There is nothign more preciouss in this galaxy than Peace. And Peace, true peace, can never be obtained through war."
-Feena Grey
Childhood and Early Life
Edit
Feena was born on courscant to a welthy family. his Father, who owned a sucessful business dealing in space travel, was a human, while her Mother was a full blooded miraluka. As the only child, she was given everything her heart could desire, but she was often left on her own, with both her parents being very busy. When she was five a certain incident tore her from her privilaged life, and with no where else to go, she was thrust into the hands of the Jedi
Personality
Edit
Although she has a very quick wit, she finds very little funny and can be a real downer at times. Despite her lack of humor, she tries to be as kind hearted and patient as she can, but at times find it difficult. She tries her best to see the good in people, even when they wont see it in themselves, however that is also a problem for her, as she cannot seem to find it in her heart to take a life. As a result of that her only real skill with a saber is in defense only.
She is intensely modest and sometimes overly critical of herself. Her negotiation skills are incredible, and she often finds herself using them just to get what she wants, something that she knows she must work on. When all is said and done though, once you break through her icy exterior, you will find an incredibly loyal companion.
Powers and Abilities
Edit
Languages
Edit
Basic, sign langiage
The Force
Edit
She has a natural talent with the force, and has exceptional skill in healing. As her eyesight is less that perfect, she has gained the ability to "see" with the force.
Swordsmanship
Edit
Her skill with a lightsaber is very weak, so she focuses all her energy on defense.
Martial Artist
Edit
When it comes to hand to hand combat she is able to hold her own. She has acceptional agility, and she often uses her speed to her advantage.
Weaknesses
Edit
Aside from her saber skills, her biggest weakness would have to be her eyesight. Being part Miralika, her eyes are much weaker than most. She has trouble seeing in extreme darkness and is nearly blind in direct sunlight.
Assets and Possessions
Edit
A very simple standard violet lightsaber
Ad blocker interference detected!
Wikia is a free-to-use site that makes money from advertising. We have a modified experience for viewers using ad blockers

Wikia is not accessible if you've made further modifications. Remove the custom ad blocker rule(s) and the page will load as expected.