Inada'Vina'Nuruodo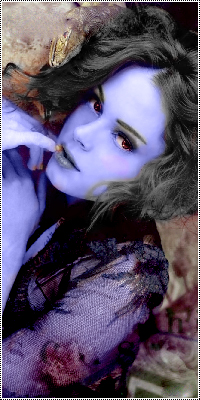 Avatar: Rose McGowan
Also known as
Davina, Vina, Vinan, Davinan, Dav
Affiliation
The Chiss Ascendancy
The United Federation
{{{CharLabel2}}}
{{{CharData2}}}
{{{CharLabel3}}}
{{{CharData3}}}
{{{CharLabel4}}}
{{{CharData4}}}
{{{CharLabel5}}}
{{{CharData5}}}
{{{CharLabel6}}}
{{{CharData6}}}
{{{CharLabel7}}}
{{{CharData7}}}
{{{CharLabel8}}}
{{{CharData8}}}
{{{PhysLabel4}}}
{{{PhysData4}}}
{{{PhysLabel5}}}
{{{PhysData5}}}
{{{PhysLabel6}}}
{{{PhysData6}}}
{{{PhysLabel7}}}
{{{PhysData7}}}
{{{PhysLabel8}}}
{{{PhysData8}}}
Brothers
Rend'Rake'Nuruodo
{{{FamLabel3}}}
{{{FamData3}}}
{{{FamLabel4}}}
{{{FamData4}}}
{{{FamLabel5}}}
{{{FamData5}}}
{{{FamLabel6}}}
{{{FamData6}}}
{{{FamLabel7}}}
{{{FamData7}}}
{{{FamLabel8}}}
{{{FamData8}}}
"Between two evils, I always pick the one I never tried before."
―Mae West
Personality and Character Traits
Edit
Xenophobic
Davina has an irrational dislike for Humans. She finds them distasteful creatures with their conceitedness and greed along with how senseless many of them can murder or commit any array of crime. Though she is xenophobic as by trait of the Chiss, she has a compassion for Humanity when ti doesn't deal with straight-line Humans. There is also a great disdain for Hutts, Zeltrons, Kel-Dor, Quarren, Jawas, and various other sentients.

Intimacy
Not sexually attracted to Chiss, it has caused the woman to become sullen in means of relationships due to an incident with a Chiss man that left her with despair and guilt and the forbidden emotion of anger for them. She does not trust Chiss males easily and finds that Hapan men are more pleasurable to view much to the dismay of her friends and family. This is even more prominent in her relationship with Shiloh Locke.
Demeanor
Despite the seemingly delicate appearance Davina has, she presents herself with an air of confidence that can be misconstrued as arrogance to those who do not know her. Sarcastic and blunt, there isn't much that she holds back from others no matter who they are; she believes everything should be met with truth as lies are a sign of weakness.

Intelligent - Resourceful - Sullen - Intuitive - Sarcastic - Witty - Energetic - Adventurous - Sultry - Opinionated - Calculating - Independent - Dutiful - Loyal - Understanding - Logical - Perseverance - Self-Disciplined - Cautious - Honest - Daring - Contemplative - Bemused - Unique - Decisive - Devoted - Determined - Distant - Callous - Guarded - Suspicious - Stubborn - Tolerant - Self-Reliant - Serious - Systematic - Able - Aggressive - Ambitious - Arrogant - Brilliant - Charismatic - Coarse - Communicative - Coarse - Civilised - Clever - Sensitive - Critical - Curious - Cultured - Dainty - Demanding - Domineering - Diligent - Effervescent - Encouraging
Appearance
Edit
Personal Connections
Edit
Shiloh Locke
Minister of Justice - Hapan - Significant Other
"Have I caught the eye of the illustrious Minister."
"Well, you could say that, Senator."
Unexpectedly, the Hapan had come into the Chiss' life. It had begun over a high stakes poker game that the pair had been formally introduced. Being with Shiloh has brought Davina closer to understanding Humanity from another point-of-view. Not knowing what to expect of the future, she had lept off the cliff without looking back.
Biography
Edit
Born the youngest of three offspring, Inada'Vina'Nuruodo had been the perfect match of both parents in
appearance. Both had great expectations of their children, but their newborn daughter had been blessed to do something great for the Chiss Ascendancy and for her Nuruodo Family.
They All Fall Down
Edit
Lying to be Perfect
Edit
Calling Mr. Vain
Edit
We Want Them Young
Edit
Within a dingy tub had been sprawled the body of the Chairman, crimson eyes swollen shut as pain scoured over

Davina. There had been the smell of oil and blood and sweat while smelling seemed to be the only sense not molested. Ice caused chills to circulate over the Chiss' body, the shock of sudden heat to cold having been the catalyst that woken her up.
Though what appeared to have been a kidney heist was more of a kidnap and ransom scenario by a man Davina had trusted and was promised to. It had been this which caused her to deny any future attempts by her siblings, or parents, to arrange relationships for her or to offer suggested men.
The organ in question was a piece of the kidney from her left section. When it had been received panic had shot through her parents, as absentee as they had been, and the thought of the death of their child was something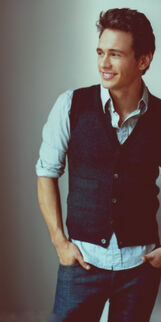 they could not bear. Only the weak committed crimes and their daughter had done nothing to deserve this. The man who had been the assailant would disagree.
No Longer Torn In Two
Edit
Ord Mantell...
Second Hand Faith is All I Need
Edit
Liberty Ball...
Abilities and Training Data
Edit

Abilities>>
Groin Popper
Hijkata
Nerve Pinch
Sera Plinck

Weaponry>>
Datadagger
Jalinese Knife
Ripper
Snap Shot Blaster
Character Sources
Edit
Training
Adventures of Shiloh and Davina
The Power is Mine
(Character Development)
We're all to Blame
(The United Federtaion)
I'm bad... I'm nationwide
(The Gungan Council)
Ad blocker interference detected!
Wikia is a free-to-use site that makes money from advertising. We have a modified experience for viewers using ad blockers

Wikia is not accessible if you've made further modifications. Remove the custom ad blocker rule(s) and the page will load as expected.