Siblings
Leto Atropos (brother)
Appearance
Edit
Personality
Edit
Upbringing
Edit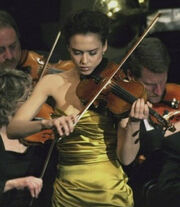 Nemesi Atropos was born into the noble courts of Hapes, to the noble house of Atropos. Her biological father, Erbos Atropos, was a prominent figure in the court and a member of the anti-Jedi faction named the Ni'Korish. Like the other members of the Ni'Korish, he was executed at the hands of Ta'a Chume for his involvement in the murder of Teneniel Djo. Nayax Atropos remarried, once again to a member of the royal court – Fastius Brecht, a man who had once been a close friend to Erbos. Brecht fathered a son by Nayax, though was never fully accepted as a member of the family by Nemesi. Even in the young girls eyes, she could see how he cowered before those around him; he was not half the man her father had been.
Though weak-willed and sycophantic, Fastius was handsome and Nayax allowed him to live for the sake of convenience. He cared for their young son Leto and ensured that the family always had enough money to get by. With his money backing her, Nemesi was given a good education. She displayed prodigal talent as a musician, excelling in her studies of Theelin opera and becoming a competent actor in the process. Though encouraged by her mother to pursue a career in such a field, Nemesi had greater aspirations. Her mothers influence, as well as the praise of those around her, had instilled Nemesi with a strong sense of pride and ambition, an ambition that would take her beyond the borders of the Hapes Consortium...
Ad blocker interference detected!
Wikia is a free-to-use site that makes money from advertising. We have a modified experience for viewers using ad blockers

Wikia is not accessible if you've made further modifications. Remove the custom ad blocker rule(s) and the page will load as expected.