A
Nightbrother
was a member of a tribal group of
Zabrak
men
subservient to the
Nightsisters
. They lived in a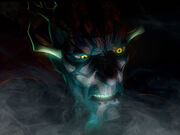 village
on the far side of the
planet
Dathomir
. The
Sith Lord
Darth Maul
was a member of the Nightbrothers before being taken by
Darth Sidious
to be trained as his
apprentice
. During the
Clone Wars
, the Nightsisters trained Maul's kin,
Savage Opress
, to be
Asajj Ventress
' replacement as
Count
Dooku
's apprentice. The full-body
tattoos
covering many
Zabrak
men are considered to be the traditional markings of a warrior.
The CovenEdit
Nightbrothers;; Past and PresentEdit
Ad blocker interference detected!
Wikia is a free-to-use site that makes money from advertising. We have a modified experience for viewers using ad blockers

Wikia is not accessible if you've made further modifications. Remove the custom ad blocker rule(s) and the page will load as expected.