Appearance
Edit
Personality
Edit
The Watchman of Ashas Ree
Edit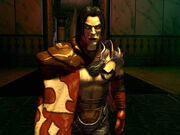 Many years ago, Orocus Miliard was a Knight of the Jedi Order, known as Miliard the Just. Prior to the Clone Wars and the ascension of Darth Sidious to control of the Galaxy, Miliard served as a Jedi Watchman of the planet Ashas Ree, under the guidance of Jedi Master Maltherion. He was one of many Jedi assigned to planets that were suspected to contain traces of the Dark Side, yet the Council did not divulge the exact details of these traces to their Watchmen. Confined to the intemperate planet, Orocus grew somewhat resentful of the Council as he felt his skills would be better used elsewhere. He grew restless and soon sought to seek out of the source of the darkness that the Council sensed, hoping to rid Ashas Ree of the corruption so that he might be able to leave the planet.
Miliard's haste and arrogance would be his downfall, however, for his searches lead him to the spirit of an ancient Sith warlord. Bound forever to the ruined mausoleum, the Sith imprisoned Orocus and subjected him to a nightmarish Derriphan – a creature created from the Dark Side of the Force, which was capable of devouring the thoughts and experiences of beings and leaving them nothing but an empty shell. Over the many centuries that had passed since the Sith's demise, the Derriphan had grown weak and could not fully consume Miliard – but rather held him in a stasis of half-life, neither-living nor dead. A delicate symbiosis formed between the pair. The Derriphan could sustain itself only so long as Orocus was alive, and so did not drain him completely.
Damnation and Salvation
Edit
Ad blocker interference detected!
Wikia is a free-to-use site that makes money from advertising. We have a modified experience for viewers using ad blockers

Wikia is not accessible if you've made further modifications. Remove the custom ad blocker rule(s) and the page will load as expected.