Character Datasheet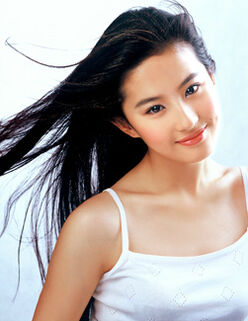 Avatar: Liu Yifei
{{{CharLabel2}}}
{{{CharData2}}}
{{{CharLabel3}}}
{{{CharData3}}}
{{{CharLabel4}}}
{{{CharData4}}}
{{{CharLabel5}}}
{{{CharData5}}}
{{{CharLabel6}}}
{{{CharData6}}}
{{{CharLabel7}}}
{{{CharData7}}}
{{{CharLabel8}}}
{{{CharData8}}}
{{{PhysLabel4}}}
{{{PhysData4}}}
{{{PhysLabel5}}}
{{{PhysData5}}}
{{{PhysLabel6}}}
{{{PhysData6}}}
{{{PhysLabel7}}}
{{{PhysData7}}}
{{{PhysLabel8}}}
{{{PhysData8}}}
Grandparents
Tiffany Kahoshi
Joseph Kahoshi(d.)
Aunts and uncles
Nick Kahoshi
Shin Kahoshi
Sawa Kahoshi
Ayane Kahoshi(d.)
Satomi Kahoshi
{{{FamLabel2}}}
{{{FamData2}}}
{{{FamLabel3}}}
{{{FamData3}}}
{{{FamLabel4}}}
{{{FamData4}}}
{{{FamLabel5}}}
{{{FamData5}}}
{{{FamLabel6}}}
{{{FamData6}}}
{{{FamLabel7}}}
{{{FamData7}}}
{{{FamLabel8}}}
{{{FamData8}}}

Riko Kahoshi is a Human Female originating from Atrisia, born to a criminal family without the knowledge of who her father is. A teenager at the age of sixteen, Riko strives to be a performer, with her talents singing and dancing.
Kahoshi Family
Edit
The Kahoshi family is an Atrisian bloodline of humans with physical features that slightly differ from most others. Their tanned complexions, rounded eye shapes and black thick hair being the main features that make them stanned out. Blue color of iris is common to all members of the family.
Prospering in Crime, the Kahoshi are part of the Yovshin Crime Syndicate, running it. The head of the family, referred to as Oyabun controls the syndicate. For a long time, the role was held was Riko's uncle Nick Kahoshi until turn to the Jedi at which point it was taken over by his brother Shin Kahoshi.
They train in a Jar'Kai fighting style, pertain to ancient customs known to Atrisia such as specific rituals of tea drinking, Yubi'tsume (cutting of one's finger) form of penance, hand-poking of full-body tattos which take years to complete.
The Crime aspect of the family include a extreme number of activities such as Protection Rackets, Prostitution, Slave Trading, Espionage, Extortion and Money Lending.
Biography
Edit
Born of the Atrisian Bloodline
Edit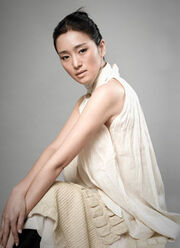 Riko Kahoshi was born was the only child to Iliana Kahoshi and an unknown man. To this day, the girl does not know who her father was though as any girl that has dreamed of knowing who it could be, Riko suspects that it was most likely an Atrisian man as none of her traits seem to differ from the rest of the family. With a strong and demanding mother that Iliana is, Riko grew up in fear of the woman, never wishing to fail the other female.
Her earliest childhood include memories of how the family works, silently observing their cultural traditions and family dealings. Early on, Riko learned the term of discipline, that family came first and she was to speak when spoken to, not before.
Traditional Upbringing
Edit
From the moment Riko was old enough, Iliana educated her in their ways. The girl began her training in the duel fighting style known as Jar'Kai and was put through numerous ceremonies unknown to their culture in which she had to learn how to conduct herself in such as the ceremonial tea drinking. How she was raised influenced Riko's own desires and thoughts such as the need to try harder than most around her, to never fail Iliana and to always strive to be better than any other child she knew.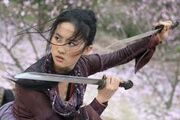 Of course, when it comes to her mother, Riko never quite knows whether she has done well or not and whether Iliana is proud of her which when she was younger often made her sad though the older she grows, Riko has learned to show such feelings unless she is completely alone.
Passion for Singing
Edit
It was in her earliest teenage years that Riko discovered how much she enjoyed singing. She had always loved music, all and any versions of it. But only when she had heard a beautiful melody that the lyrics just spur from her mind, creating a song that she still remembers vividly to this very day. Ever since than, Riko has written songs, learned to play various music instruments and simply took her new hobby as a way to comment on how she felt and to relax.
None of it of course stopped her other training as performing wasn't exactly something the family was known for. Still, Riko couldn't stop her passion from developing such much. As the years passed, her collection of lyrics and playing instruments knowledge has growed immensely.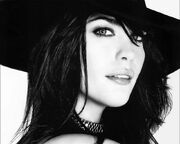 Morgan Kade
Edit
At the turn of her sixteenth year of life, Riko opted herself to do something with her love for music which resulted in her meeting Morgan Kade for wom she auditioned by performing her songs.
Justice is on the end of a Nightstick
Edit
Back at home on Atrisia, Riko takes part in a tea drinking ceremony with her mother when the news from Io Akima arrives of Sullust being under attack by the United Triumvirate after which she is asked to share her oppinion, a test like most other things her mother does with her. Before Riko had a chance to learn whether her mother approved or not, the two Kahoshi females were joined by her uncle Shin.
Physical Apperance
Edit
Overall apperance
Edit
At the height of 5 feet 7 inches (1.70 meters) and weight of 150 pounds (68 kilos), Riko has long thin, sharp black hair and characteristic Kahoshi dark blue eyes. Despite her intense training, she has never displayed muscles upon her slim and gently curved body that is still developing. With an oval face, long thin lips, probably the best way to describe the teenage girl is cute.
Fashion sense
Edit
Growing up in a traditional Atrisian family, Riko grew up with a mostly traditional selection of wardrobe which she still very much wears, especially when she is at home. While in time, she's learned of other styles and owes a handful of clothing pieces that children her age outside of Atrisia do wear, when at home, she will mostly stick to how she was raised, leaving the more free fashion for when she is not in the presence of family.
Personality
Edit
Adorable, sweet and open minded, Riko is still very much growing up and growing into herself. She likes to learn new things, likes to explore. Raised in an extremely disciplined culture with a mother that she fears to this very day, she knows how to conduct her in a Kahoshi environment and even when she is not at home and can let her hair down, Riko still very much ensures that nothing she does will bring shame to her family.
When it comes to her family, she sets a difference between how she is around her cousins and the older generations. She will never speak first in front of her mother, grandmother, aunts or uncles but at the same time, she's very open hearted to Daine, Akio, Sayuri and Raiden whom she cares a bit a great deal and shows it.
For the most part of her lfie, Riko didn't have outsiders to conduct herself with unless it was someone visiting her mother in which case she was the one in the back, being absolutely quiet.
Training Information
Edit
General skills
Edit
Languages
Atrisian
Galactic Standard Basic
High Galactic
Known skills
Dancing
Horseback riding
Fencing
Gynmastics

Instruments (piano, violin, traditional Atrisian instruments)

Jar'Kai
Singing
Trainers
Trainees
Personal Properties
Edit
Roleplaying Activity
Edit
HOLDING ON TO INNOCENCE ~ IN THE BEGINNING
INNOCENCE LOST ~ ATRISIA CRIME FAMILY
Ad blocker interference detected!
Wikia is a free-to-use site that makes money from advertising. We have a modified experience for viewers using ad blockers

Wikia is not accessible if you've made further modifications. Remove the custom ad blocker rule(s) and the page will load as expected.