"Who am I? A shadow that wants to be forgotten."
―Savannah Starkiller
Savannah Starkiller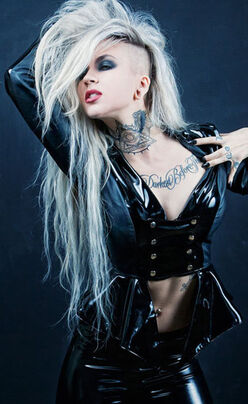 Avatar: Sara Fabel
Name
Savannah Skye Starkiller
Also known as
Savvy
Enigma
Homeplanet
Nar Shaddaa
Dromund Kaas
Affiliation
The Galactic Underworld
The Sith Council
Apprentices
{{{Apprentices}}}
Lightsabers
{{{Lightsaber}}}
Citizenship
Tatooine - Nar Shaddaa
Ryloth - Dromund Kaas
Korriban - Zeltros
{{{CharLabel7}}}
{{{CharData7}}}
{{{CharLabel8}}}
{{{CharData8}}}
{{{PhysLabel1}}}
{{{PhysData1}}}
{{{PhysLabel2}}}
{{{PhysData2}}}
{{{PhysLabel3}}}
{{{PhysData3}}}
{{{PhysLabel4}}}
{{{PhysData4}}}
{{{PhysLabel5}}}
{{{PhysData5}}}
{{{PhysLabel6}}}
{{{PhysData6}}}
{{{PhysLabel7}}}
{{{PhysData7}}}
{{{PhysLabel8}}}
{{{PhysData8}}}
{{{FamLabel6}}}
{{{FamData6}}}
{{{FamLabel7}}}
{{{FamData7}}}
{{{FamLabel8}}}
{{{FamData8}}}
Training Information
[[Image:|248px|Training Information|]]
Avatar: {{{Actor}}}
Name
Savannah Skye Starkiller
Rank
Neutral Adept
Sith Knight
Apprentices
{{{Apprentices}}}
Lightsabers
{{{Lightsaber}}}
{{{CharLabel3}}}
{{{CharData3}}}
{{{CharLabel4}}}
{{{CharData4}}}
{{{CharLabel5}}}
{{{CharData5}}}
{{{CharLabel6}}}
{{{CharData6}}}
{{{CharLabel7}}}
{{{CharData7}}}
{{{CharLabel8}}}
{{{CharData8}}}
{{{PhysLabel1}}}
{{{PhysData1}}}
{{{PhysLabel2}}}
{{{PhysData2}}}
{{{PhysLabel3}}}
{{{PhysData3}}}
{{{PhysLabel4}}}
{{{PhysData4}}}
{{{PhysLabel5}}}
{{{PhysData5}}}
{{{PhysLabel6}}}
{{{PhysData6}}}
{{{PhysLabel7}}}
{{{PhysData7}}}
{{{PhysLabel8}}}
{{{PhysData8}}}
{{{FamLabel6}}}
{{{FamData6}}}
{{{FamLabel7}}}
{{{FamData7}}}
{{{FamLabel8}}}
{{{FamData8}}}
Bloodlines
[[Image:|248px|Bloodlines|]]
Avatar: {{{Actor}}}
Name
Savannah Skye Starkiller
Apprentices
{{{Apprentices}}}
Lightsabers
{{{Lightsaber}}}
{{{CharLabel3}}}
{{{CharData3}}}
{{{CharLabel4}}}
{{{CharData4}}}
{{{CharLabel5}}}
{{{CharData5}}}
{{{CharLabel6}}}
{{{CharData6}}}
{{{CharLabel7}}}
{{{CharData7}}}
{{{CharLabel8}}}
{{{CharData8}}}
{{{PhysLabel1}}}
{{{PhysData1}}}
{{{PhysLabel2}}}
{{{PhysData2}}}
{{{PhysLabel3}}}
{{{PhysData3}}}
{{{PhysLabel4}}}
{{{PhysData4}}}
{{{PhysLabel5}}}
{{{PhysData5}}}
{{{PhysLabel6}}}
{{{PhysData6}}}
{{{PhysLabel7}}}
{{{PhysData7}}}
{{{PhysLabel8}}}
{{{PhysData8}}}
Siblings
Xander Starkiller
Mark Starkiller
Nieces
Trinity Decuir
Raven Decuir
Nephews
Jason Starkiller
Alistair Starkiller
Alexiares Decuir
Other family
Zane Starkiller
{{{FamLabel6}}}
{{{FamData6}}}
{{{FamLabel7}}}
{{{FamData7}}}
{{{FamLabel8}}}
{{{FamData8}}}
Description
[[Image:|248px|Description|]]
Avatar: {{{Actor}}}
Name
Savannah Skye Starkiller
Apprentices
{{{Apprentices}}}
Lightsabers
{{{Lightsaber}}}
{{{CharLabel2}}}
{{{CharData2}}}
{{{CharLabel3}}}
{{{CharData3}}}
{{{CharLabel4}}}
{{{CharData4}}}
{{{CharLabel5}}}
{{{CharData5}}}
{{{CharLabel6}}}
{{{CharData6}}}
{{{CharLabel7}}}
{{{CharData7}}}
{{{CharLabel8}}}
{{{CharData8}}}
Species
Human - Corellian
Eye color
Left; Silver
Right; Blue
Measurements
36C-24-33 [86-61-82]
{{{PhysLabel2}}}
{{{PhysData2}}}
{{{PhysLabel3}}}
{{{PhysData3}}}
{{{PhysLabel4}}}
{{{PhysData4}}}
{{{PhysLabel5}}}
{{{PhysData5}}}
{{{PhysLabel6}}}
{{{PhysData6}}}
{{{PhysLabel7}}}
{{{PhysData7}}}
{{{PhysLabel8}}}
{{{PhysData8}}}
{{{FamLabel6}}}
{{{FamData6}}}
{{{FamLabel7}}}
{{{FamData7}}}
{{{FamLabel8}}}
{{{FamData8}}}
Appearance
Edit
Personality and Traits
Edit
Strengths
Edit
Characteristics
Edit
>> Sexuality: Omnisexual
>> Likes: 
>> Dislikes:
>> Fears:
>> Disorders:
>> Hobbies:
>> Other:
Personality Overview
Edit
Biography
Edit
"Are you not a shadow of the person you once were?"
―Savannah Starkiller
P

rofessionEdit
The Galatic Underworld
Edit
Personal Connections
Edit
| | | |
| --- | --- | --- |
| Relationships | Acquaintances | Disliked and Reviled |
| | | |
Assets and Possessions
Edit
Businesses
Edit
Abilities and Training Data
Edit
Abilities:
Trainer(s):
Master(s):
Character Sources
Edit
[Character Chronological Order]
In The Wild
Brand New Eyes
waking the demon
dangerous intentions
mInutes to midnight
Ad blocker interference detected!
Wikia is a free-to-use site that makes money from advertising. We have a modified experience for viewers using ad blockers

Wikia is not accessible if you've made further modifications. Remove the custom ad blocker rule(s) and the page will load as expected.