"Innocence is overrated... Let's pillage and plunder!"
―Stacy Daklin; Underworld Pirate
Stacy Daklin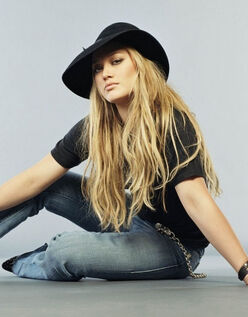 Avatar: Hilary Duff (Blonde)
Also known as
Stacy Nairne
Anya Jennings
Homeplanet
Tatooine
Nar Shaddaa
Affiliation
The Jolly Roger
The Galactic Underworld
Apprentices
{{{Apprentices}}}
Lightsabers
{{{Lightsaber}}}
Citizenship
Tatooine
Nar Shaddaa
Ryloth
{{{CharLabel7}}}
{{{CharData7}}}
{{{CharLabel8}}}
{{{CharData8}}}
{{{PhysLabel1}}}
{{{PhysData1}}}
{{{PhysLabel2}}}
{{{PhysData2}}}
{{{PhysLabel3}}}
{{{PhysData3}}}
{{{PhysLabel4}}}
{{{PhysData4}}}
{{{PhysLabel5}}}
{{{PhysData5}}}
{{{PhysLabel6}}}
{{{PhysData6}}}
{{{PhysLabel7}}}
{{{PhysData7}}}
{{{PhysLabel8}}}
{{{PhysData8}}}
{{{FamLabel6}}}
{{{FamData6}}}
{{{FamLabel7}}}
{{{FamData7}}}
{{{FamLabel8}}}
{{{FamData8}}}
Training Information
[[Image:|248px|Training Information|]]
Avatar: {{{Actor}}}
Trainers
Nathaniel Alcine
Kalinai Soluza
Apprentices
{{{Apprentices}}}
Lightsabers
{{{Lightsaber}}}
{{{CharLabel3}}}
{{{CharData3}}}
{{{CharLabel4}}}
{{{CharData4}}}
{{{CharLabel5}}}
{{{CharData5}}}
{{{CharLabel6}}}
{{{CharData6}}}
{{{CharLabel7}}}
{{{CharData7}}}
{{{CharLabel8}}}
{{{CharData8}}}
{{{PhysLabel1}}}
{{{PhysData1}}}
{{{PhysLabel2}}}
{{{PhysData2}}}
{{{PhysLabel3}}}
{{{PhysData3}}}
{{{PhysLabel4}}}
{{{PhysData4}}}
{{{PhysLabel5}}}
{{{PhysData5}}}
{{{PhysLabel6}}}
{{{PhysData6}}}
{{{PhysLabel7}}}
{{{PhysData7}}}
{{{PhysLabel8}}}
{{{PhysData8}}}
{{{FamLabel6}}}
{{{FamData6}}}
{{{FamLabel7}}}
{{{FamData7}}}
{{{FamLabel8}}}
{{{FamData8}}}
Bloodlines
[[Image:|248px|Bloodlines|]]
Avatar: {{{Actor}}}
Apprentices
{{{Apprentices}}}
Lightsabers
{{{Lightsaber}}}
{{{CharLabel3}}}
{{{CharData3}}}
{{{CharLabel4}}}
{{{CharData4}}}
{{{CharLabel5}}}
{{{CharData5}}}
{{{CharLabel6}}}
{{{CharData6}}}
{{{CharLabel7}}}
{{{CharData7}}}
{{{CharLabel8}}}
{{{CharData8}}}
{{{PhysLabel1}}}
{{{PhysData1}}}
{{{PhysLabel2}}}
{{{PhysData2}}}
{{{PhysLabel3}}}
{{{PhysData3}}}
{{{PhysLabel4}}}
{{{PhysData4}}}
{{{PhysLabel5}}}
{{{PhysData5}}}
{{{PhysLabel6}}}
{{{PhysData6}}}
{{{PhysLabel7}}}
{{{PhysData7}}}
{{{PhysLabel8}}}
{{{PhysData8}}}
Siblings
Zakariah Daklin
Kassey Daklin
Scott Daklin
Nieces
Julianna Nero
Isis Draclau
Nephews
Ayden Draclau
Jason Daklin
Tobias Daklin
{{{FamLabel6}}}
{{{FamData6}}}
{{{FamLabel7}}}
{{{FamData7}}}
{{{FamLabel8}}}
{{{FamData8}}}
Description
[[Image:|248px|Description|]]
Avatar: {{{Actor}}}
Apprentices
{{{Apprentices}}}
Lightsabers
{{{Lightsaber}}}
{{{CharLabel2}}}
{{{CharData2}}}
{{{CharLabel3}}}
{{{CharData3}}}
{{{CharLabel4}}}
{{{CharData4}}}
{{{CharLabel5}}}
{{{CharData5}}}
{{{CharLabel6}}}
{{{CharData6}}}
{{{CharLabel7}}}
{{{CharData7}}}
{{{CharLabel8}}}
{{{CharData8}}}
Species
Human - Tatooinian
Measurements
36B-22-34 [81-58-86]
{{{PhysLabel2}}}
{{{PhysData2}}}
{{{PhysLabel3}}}
{{{PhysData3}}}
{{{PhysLabel4}}}
{{{PhysData4}}}
{{{PhysLabel5}}}
{{{PhysData5}}}
{{{PhysLabel6}}}
{{{PhysData6}}}
{{{PhysLabel7}}}
{{{PhysData7}}}
{{{PhysLabel8}}}
{{{PhysData8}}}
{{{FamLabel6}}}
{{{FamData6}}}
{{{FamLabel7}}}
{{{FamData7}}}
{{{FamLabel8}}}
{{{FamData8}}}
Stacy Erica Daklin, formally known by the last name Nairne, is a human female born on the desert planet of Tatooine; she is the half-sister of Zakariah, Kassey and Scottie Daklin and the adoptive daughter of James Nairne and Lisa Nairne. Stacy is considered to be a very happy and flirtatious woman most of the time but this is often a façade to hide how she truly feels. She is a gunslinger and sharpshooter, a gambler and a pirate, a liar and a thief. Stacy is a known pirate associated in with the Galactic Underworld and currently serves as the Quartermaster aboard the pirate ship The Jolly Roger.
Appearance
Edit
Personality
Edit
Personality Overview
Edit
Biography
Edit
Childhood
Edit
Teen Years
Edit
Adulthood
Edit
P

rofessionEdit
The Galatic Underworld
Edit
Personal Connections
Edit
Relationships
Acquaintances
Disliked and Reviled
Delilah Rainier:

The Ex-girlfriend; their relationship is rocky and tense,

but Stacy still loves Delilah very much, though Delilah chooses not to believe it. Typcially they fight like cat and dog and aren't known for being civil towards one another.

Kassey Daklin:

The Sister; Sisters by birth, friends by choice. It's known that Stacy greatly exaggerates how close the two are, they aren't the best of friends or the closest of siblings but should either of them need help the other will be there for them.

Zakariah Daklin:

The Brother;

Seth Draclau:

The Fling; They met, they hooked up and now they're related by marriage. Small world, huh? Seth and Stacy are civl enough towards one another, not friends but civil.

Scottie Daklin:

The Brother

; Braiden Sky:

Crew Mate;
Assets and Possessions
Edit
Businesses
Edit
Abilities and Training Data
Edit
Abilities:
Trainer(s):
Trainees:
Character Sources
Edit
[Character Chronological Order]
Seize the Night
If It Aint Broke Break It
Rock And Roll Dreams
Out Of The Frying Pan
Heaven Can Wait
Bat Out Of Hell
Ad blocker interference detected!
Wikia is a free-to-use site that makes money from advertising. We have a modified experience for viewers using ad blockers

Wikia is not accessible if you've made further modifications. Remove the custom ad blocker rule(s) and the page will load as expected.