Thanatos Marzullo is the eldest child
Thanatos Marzullo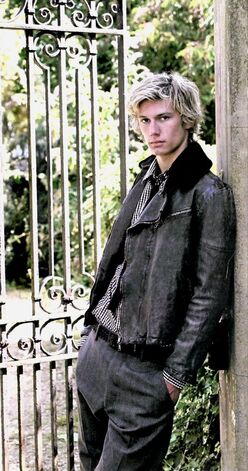 Avatar: Alex Pettyfer
Titles
Dreaming River Clan Priest
Affiliation
Witches of Dathomir
The Coven
Apprentices
{{{Apprentices}}}
Lightsabers
{{{Lightsaber}}}
Languages
Galactic Basic
Latin

{{{CharLabel2}}}
{{{CharData2}}}
{{{CharLabel3}}}
{{{CharData3}}}
{{{CharLabel4}}}
{{{CharData4}}}
{{{CharLabel5}}}
{{{CharData5}}}
{{{CharLabel6}}}
{{{CharData6}}}
{{{CharLabel7}}}
{{{CharData7}}}
{{{CharLabel8}}}
{{{CharData8}}}
Eye color
Stormy Sea Green
{{{PhysLabel1}}}
{{{PhysData1}}}
{{{PhysLabel2}}}
{{{PhysData2}}}
{{{PhysLabel3}}}
{{{PhysData3}}}
{{{PhysLabel4}}}
{{{PhysData4}}}
{{{PhysLabel5}}}
{{{PhysData5}}}
{{{PhysLabel6}}}
{{{PhysData6}}}
{{{PhysLabel7}}}
{{{PhysData7}}}
{{{PhysLabel8}}}
{{{PhysData8}}}
Parents
Pandora Marzullo
Unknown
Grandparents
Othello Marzullo
Faline Bazzel
Great grandparents
{{{GreatGrandParents}}}
Aunts and uncles
Zen Marzullo
Cadence Marzullo
Axelle Marzullo
Deija Marzullo
Cousins
Dominic Marzullo
Lestat Marzullo
Other family
{{{OtherFamily}}}
{{{FamLabel2}}}
{{{FamData2}}}
{{{FamLabel3}}}
{{{FamData3}}}
{{{FamLabel4}}}
{{{FamData4}}}
{{{FamLabel5}}}
{{{FamData5}}}
{{{FamLabel6}}}
{{{FamData6}}}
{{{FamLabel7}}}
{{{FamData7}}}
{{{FamLabel8}}}
{{{FamData8}}}
Personality
Edit
StrengthsEdit
WeaknessesEdit
AppearanceEdit
General Appearance:
Hair Color: Dirty Blonde
Eye Colour: Sea Green
Skin Colour: Pale
Distinguishing Marks: a Celtic cross on his chest, Arabic script on the inside of his right arm, the words, "What Goes Around Comes Around" on his right shoulder, a Kanji script for Death on his lower waist

Relationships (Personal Connections)
Edit
Pandora Marzullo
Gabriel Volturi
Seraphina Volturi
Josephine Octavia
Skills/Abilities
Edit
LanguagesEdit
Other EducationEdit
The ForceEdit
Force level: Apprentice (Knight in waiting)
Specialty: Healing and Monk Style Fighting
Known Abilities/Spells
Apprentice Spells/Knowlege

Knight Spells/Knowledge

Master Spells/Knowledge

Alteration
Concentration
Enhance
Levitation
Mechu-Deru
Night Sight
Tapas

Evocation
Force Jump
Force Pull
Force Push
Force Sphere
Spell of Dispel

Senses
Aquatic Sense/Tide Sense
Blood Trail
Ground Communication
Mountain Sense
Spell of Water
Weather Sense

Ward
Force Barrier
Information
Edit
Possessions
Edit
Paths In Life (Threads)Edit
Personal TrainingEdit
Social DevelopmentEdit
Eduction of OthersEdit
Social DevelopmentEdit
Faction ThreadsEdit
Ad blocker interference detected!
Wikia is a free-to-use site that makes money from advertising. We have a modified experience for viewers using ad blockers

Wikia is not accessible if you've made further modifications. Remove the custom ad blocker rule(s) and the page will load as expected.